By Jon Michail
Sometimes it's hard to know where to draw the line. As a CEO, you want your advertising and marketing to be unique and to place you and your company clearly above your industry competitors. At the same time, you know it takes very little to be perceived by the Australian public as a tall poppy that needs a well-aimed weed whacker. There's a subtle difference between being acknowledged as an industry leader and someone who has overreached himself or herself.
It certainly is a fine line – do you avoid embarrassing yourself or do you do your utmost to carefully craft your unique marketing and advertising messages with this page? As a CEO, you have to work to ensure that your personal branding is professional and engaging. Personal branding has become a legitimate and positive way to differentiate oneself in the workplace and the marketplace – as long as you take a considered approach.
Don't forget that your personal branding is an extension of your company or organisation's brand. Each should enhance the other rather than being in competition. There is only a whisker between a CEO's personal brand and that of the company. As a CEO, the promotion of your personal brand can give your company a real competitive advantage. Research supports this fact and show that listed companies with positive CEO's gain greater returns than their less favourable colleagues. Similar evidence is so for CEO's or owners driving the private smaller companies as they are perceived as a real asset with their clients, suppliers, bankers and stakeholders.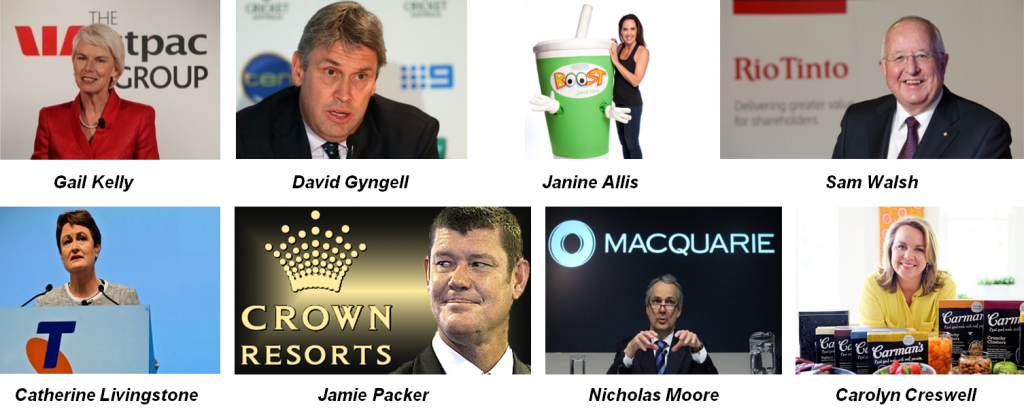 Personal Brand Leadership Success Stories in Australian Business (above images).
Your visibility and public awareness will be created not only through your marketing and advertising but also through public and social media. Spotlight your strengths and capabilities and contrast yourself from your competitors. These will establish your credibility and in turn, increase customer demand and allegiance. Your client confidence will increase referrals and strong leads.
When people look at your strong and authentic personal brand, your marketing personality, they will see a package made up of many different aspects. Your personality, values, the quality of your work and your achievements will combine to give you a competitive advantage. Building and maintaining your brand means becoming the person portrayed by your brand. Become that masterful, confident and professional person and people will like, trust and respect you for what you represent. You won't be a tall poppy that needs chopping down – you'll be a respected market leader.
Your personal branding is a means of controlling and relaying those things that are unique and relevant about you. You are the director of how the audience out there perceives your professional reputation. And, perhaps the most satisfying of all, you will have enhanced your personal and professional satisfaction.
I'd love to hear about your experience, you are most welcome to drop me a note.
Jon Michail is Group CEO of Image Group International, Australasia's No 1 image coach. Image Group International supports executives, entrepreneurs and their organisations to become iconic and monetised leadership brands.
If you valued this post, please do share it and follow me on Twitter at @jon_michail and Subscribe to The ImageMaker Blog at www.imagegroup.com.au/the-imagemaker-blog/.