Last week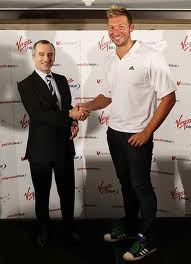 Ian Thorpe revealed a comeback of sorts, launching his new campaign to swim in the London Olympics – A champion sportsman, he has been a marketer's dream and we are sure the corporate world will continue to support him all the way in his new journey.
Flanked by his long time manager David Flaskas, and his new sponsorship deal with Virgin Blue, Thorpe announced his return during a press conference. His buoyant manager was quoted as saying "Japan has gone mad overnight," acknowledging his client plans to wade slowly into any new commercial arrangements. One top sports agent said: "Ian is definitely in a position to make a lot more money, but with a lot of money comes a heck of a lot of pressure." Another said Thorpe's return was an immeasurable boost to the sport:"Keep an eye on the TV rights now."
The Brand King
Following are some of Ian Thorpe's brand sponsorships, ambassador roles and general business deals conducted over his career.